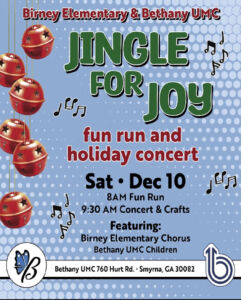 Please join us as we partner with Birney Elementary School to host Jingle for Joy! This is a community holiday event. It is open to the public. However all children under 18 must be accompanied by an adult chaperone.
Here is our estimated schedule for the day on Saturday December 10:
8am Fun Run Registration
(run will be on Bethany UMC property)
8:30-9am Fun Run
9:30am Concert by Birney Elementary Chorus, Kindergartners and Bethany Kids
10:30am – 12noon Christmas Crafts and Pictures
We will have pictures with Santa and Nativity Dress Up Photo Booth. We will have crafts to decorate Christmas cookies and much more!
If you would like to participate in the fun run… simply email us your name and t-shirt size with the quantity for that size at office@bethanyumc.net. Please put "fun run" in the subject line and you can pay by dropping off cash or check (made out to Bethany UMC) at church in an envelope labeled Fun Run.
Deadline for payment is November 30th! You only need to pay if you are purchasing a t-shirt. The run is free. The concert and the crafts and pictures are also free. There is no charge for this event.